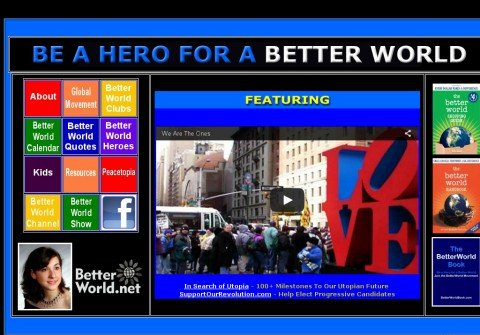 Visit betterworld.net
Popularity & Rank History
Traffic Coming from Search Engines
Info database by Alexa Rank for
whois
.
Title:
BetterWorld.net - Be a Hero for a Better World
Description:
Join the BetterWorld Movement - Start a BetterWorld Club today - BetterWorldClubs.com - The BetterWorld.net website includes over 3000 FREE printable resources on more than 60 social issues, integrating over 1000 BetterWorld Hero portraits by Robert Alan Silverstein. Resources include BetterWorld Quotes, a BetterWorld Calendar, 1000 BetterWorld Heroes and FREE BetterWorld Clubs materials. These resources may be distributed for non-commercial uses only. BetterWorld Heroes are included for illustration purposes only. No celebrity endorsement is implied. Now check out BetterWorldShow.com - The BetterWorld Show: The Reality Show That Will Change Reality! Join the global grassroots BetterWorld Movement; start a local BetterWorld Club today. Be a hero for a better world - every act of compassion makes a difference!
Keywords:
better world calendar, better world, better world show, betterworld, peace on earth, better world quotes, better world heroes, better world days, earth day, human rights day, peace day, culture of peace.